Tuesday, August 17, 2004
Ivan Hlinka: Memories...
With yesterday's tragic news regarding
Ivan Hlinka
, here are a couple of photos from his happier days.
(Thanks to Duc for providing these photos to me)
Hlinka the Heartthrob:
Here is a picture of a very happy Hlinka holding up some divorce papers. The girls are screaming now that their favourite dreamboat coach is back on the market.
But what's with the girl on the bottom left giving the Nazi salute?
Back in the CSSR:
Here is Hlinka back when he was a stud with the Czechoslovakian (Soviet Socialist Republic).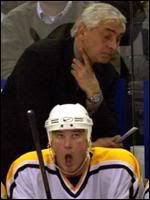 Working hard...or hardly workin?
- Here is Hlinka playing Tetris on his cellphone while Mario tries very hard to get excited about his next shift. That Hlinka was one great motivator.