Tuesday, August 31, 2004
Canada 2 - USA 1 -> A Solid Start...
It certainly was a different experience watching Canada play the US on American TV (ESPN).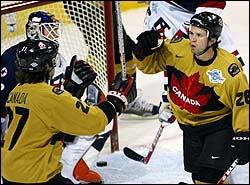 (What the hell are these sweaters about? When did mustard yellow become part of Canada's motiv? Ugh...even my mom didn't like them, and she usually likes weird clothes.)
Back in Canada, I can always count on high quality, level-headed, and informative coverage. In the USA, I'm subjected to hype over substance.
In Canada (CBC), you get high quality colour commentating from guys like Sean Burke, Brian Burke, and so forth. In the US, you get Jeremy Roenick screaming like an 8th grade Team USA cheerleader. Normally, I love JR's interviews...but he does not belong in a TV booth during games. Unless you like guys who scream like fanboys when Team USA completes a pass, you'll likely grow sick of JR after about 10 seconds.
In Canada, you get informative analysis of the game and issues during the intermissions. In the US, you get ESPN trying to sensationalize the fact that Roenick likes to spend a bit of his disposable income betting on the NFL.
With ESPN, you get their play-by-play crew cheering and screaming over any routine save. I'm used to my play-by-play guys being less emotive, and it's hard to swallow the brash American style. Someone slip some
Ritalin
into JR's coffee, eh!
ESPN couldn't BE any more pro-American. This is the 'World' Cup, so how about a little bit less USA bias? At least JR didn't hide it...
Entertainment over substance.
Cheap humour over analysis.
Well, maybe I shouldn't be so bitter. After all, Canada came away with the victory on the ice...and the sun is really shining here in San Francisco
---
Some of my thoughts on the game...
Team Canada controlled the play for the 1st period and most of the 3rd period by forcing the play on the weakened American defense. If the US had the guys they started out with, I doubt Canada could have run over the Americans like they did to start the game.
The ESPN guys mentioned the weather was warm and the ice was slushy. During the 3rd period, I noticed that the skaters weren't getting a lot of distance for their strides, and the play really slowed down as the ice turned into a slurpee. This is the big disadvantage to an August tournament...
Even Oilers fans were complaining that Eric Brewer was picked for Canada's defense, but he was an absolute Pierre McGuire monster today. I liked the big hits Brewer was throwing and the way he handled the bigger American forwards.
Again, what the hell was with Team Canada's uniforms? Even the Queer Eye for the Straight Guy dudes wouldn't be caught dead in those.
(For those who don't know, these jerseys resemble the ones worn by the
Winnipeg Falcons
, who were Canada's Olympic champions back in 1920.)
Mario - It was nice to see him drop the gloves and try to beat the stuffing out of Steve Konowalchuk. You know a game means something when Mario gets that cheesed off.
Mario played very very little in the 2nd and 3rd periods, which I am guessing is by design. It's better to keep him fresh and uninjured for the medal games.
When Team Canada was having trouble completing a basic pass during the 2nd period, I don't know why coach Quinn didn't have them just dump the damn puck into the offensive zone and try to get a basic forecheck going. There was a long period when any up-ice rush was broken up before the Canadians could get in deep on the forecheck. Sometimes, it's good to play the ugly style of dump-and-chase when the finesse isn't working.
And as much as I love seeing Martin Brodeur get smacked around, where are the goaltender interference calls? I think Konowalchuk had time to watch Season 2 of the Sopranos with the amount of time he spent sitting on Brodeur's head.
---
Slovakia gets going tomorrow night, and the news just gets worse and worse.
Ladislav Nagy
has been diagnosed with an abdominal injury and may not play in tomorrow's game against Canada.
I don't know which team I'll be cheering for more...
Comments:
I enjoyed watching the game, though the ESPN play-by-play was awful as usual. Gary Thorne is actually considered one of the best PBP guys around down here. I don't think I'll ever understand that. I actually thought that JR added to everything though - you knew you were going to get a cheerleader (he's a former member of the team), but you also got his player's eye for detail. He noticed so many things that Thorne just missed completely, and openly admitted he was biased.
I thought the goalie intereference call on Konowalchuk was pure garbage, especially considering Brodeur pulled him back into the net when he tried to get up. The refs really seemed to be calling penalties whenever they they sensed it would change the pace of the game, instead of calling them because the rules were broken. Outside of that, though, I enjoyed the game a great deal. It was nice to see two teams with fire after watching the poor, poor Czechs limp around against Finland. I feel awful for Tomas Vokoun!
I'm looking forward to seeing Slovakia tonight. That team has some serious firepower. I just wonder how Lasak will hold up.
BTW, good call on "Slovenia" over at Off-Wing today!
Post a Comment
<< Home