Thursday, July 29, 2004
Thursday's Crazy Roundup
Mario Lemieux is at it again!
According to the
Pittsburgh Post-Gazette
, Lemieux and Luc Robitaille are part of an ownership group that has reached an agreement to buy the USHL River City Lancers.
Stabbey, stab, stab!
Lancey, lance, lance!
Shouldn't Super Mario worry about rescuing Princess Peach (the Penguins) from evil Bowser (debt and financial doom)?
---
Who wears the pants in this relationship?
Petr Nedved would be signed with the Oilers right about now, but
apparently his hot supermodel wife (Veronica Verakova) thinks that Edmonton is about as fashionable as Gilbert Godfried
.
"Besides, when it comes to wearing the pants, Verakova, perhaps best known for her SI Swimsuit cover, tucked almost as much cake in her jeans for modelling last year as did her new hubby, who pocketed $4.75 million with the Rangers and Oilers.
If you had a wife that looked like this, would you really want to argue?
---
Grapes and Cherrys for all of Canada!
According to the toilet tabloid, the Toronto Star reports that
Don Cherry
is set to come back to the CBC for another year. I don't know why CBC would ever consider not bringing him back. Cherry = Ratings, and the anti-french sentiment is overblown. Really, Canadians seem anti-personality sometimes.
For me, however, the real news is that CBC is set to bring
Brian "He's tougher than a night in jail" Burke
aboard as an analyst.
If there was ever a guy meant for TV, it was Burkie.
Hell, it'll be worth it if he has a semi-regular feature during the intermission where he rips apart Al Strachan like a Hulkamania t-shirt. Burke will replace the decent, but boring, Glen Healy.
---
Vinnie to Sparta??
There was some hubbub in the Czech press that Vincent Lecavalier may sign with evil Sparta Prague in the case of the
lockout(tm)
.
Slava Lener, the Czech Tom Selleck,
has shut down that rumour
, but said that Sparta is having former Spartan David Vyborny in training camp, along with the very crappy Jan Hlavac.
---
Preseason Games???
Yeah, I mentioned it before, but preseason games have already begun, even in July!
Trinec (czech) vs. Dubnica (slovak) - Trinec won this battle easily by a 6-1 score, in front of a whopping 250 fans (Most of whom were there for the free air conditioning).
This came after Trinec travelled to Poland to beat up on UNIA OSWIECIM (also known as Auschwitz).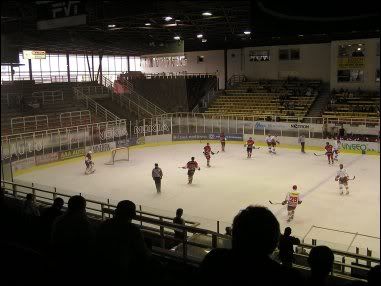 Just look at how packed the place is!!
Comments:
your missing the bigger penguin story. and all of the cba issues for the most part. grab a shovel and dig yourself a position already jes! lol
the owners are gagged by buttman and can not talk about their needs, even though several owners have apparently leaked out that they do not believe bettman's salaray cap hard line improves their teams chances of making money, or addresses many of the fundemental issues that face the nhl as a viable entertainment choice.
what does this have to tdo with the penguins?
everything. the league is in choas. THAT team is on life support and is unwatchable, BUT super mario claims (and NOT for the first time) he has 'several' out of town interests pursuing buying the penguins.
HUH?
just how bad is the nhl's ownership position really? that there are several people willing to buy a bankrupt crappy team and move them to even a smaller market than columbus? WHILE there is ever chance that at least 82 games will be lost before the new owners get any revenue isn't scaring them off?
the games a foot. or at least the hypocrasy of the nhl brass stinks like an unwahsed foot.
Who is lying? mario or bettman? is the league in its death throes, or are they several potential owners out there for the worst that the bettman monarchy can produce?
bettman can't sell the sabres? mario can sell the pens 3 times over.
bettman can't keep teams north of the border (and when he gets a year long strike that he wants, he will likely tank one northern team and possibly two ), but mario can make money selling off a 'no arena' pile of rejects wearing black and gold while never seeing any gold or getting in the black? [is it the shoes?]
bettman can not get his owners, as a group, to police themselves responisbliy in a finacial setting they alone create, but he can get the owners to agree to give up their constituational rights (at least the americans amoungst them) of free speech and freedom of assembly by impossing mind numbing penalties for even whispering that bettman's position doesn't speak for all owners. yet walk up to brett hull and ask him anything about the nhl, the cba, bettman, refs, his father, and bribing andy before scoring the clenching goal for the stars, and he is free to talk and as loose as a cannon when he does.
and on a side note:
HASEK?!? HASEK?!?
----BLUELINES: Will Hasek pay off?
Stan Fischler / FOX Sports Net
Is Ottawa getting a lemon in Dominik Hasek? One former Russian teammate thinks so. The defenseman says The Dominator is much less than a team player. Wade Redden, Chris Phillips, beware!
ha!
to me, great, or best, BOTH require being a solid teammate, and hasek has never been one. Does hasek have competetion? In roy, for great yes. roy started the trend of skilled youngsters WANTING to be tenders (instead of forwards, and orr had talent wanted to play defense instead of forward). that wasn't hasek. People learn to play goal like 'patty rooooy'. they can't and shouldn't learn to play like hasek. and this all assumes fuhr isn't in the running (which he is and should be for several reasons). and yea roy is less than the best teammate occasionally, but he only needs to be better than hasek at shaking hands, and he is.
the winner is really fuhr though. amazing what he did and how little he is respected for it. it is a numbers game, but the offensibve team played in front of him, and his job was not to get a shut out, but to make the big save when needed, and he nearly always did. he was and remains an inspiration to some of the minority nhl players and is often credited as a major reason they chose to pursue the nhl. and i saw his teammate qualties when he had almost nothing left and wore the blue note. his knees were gone. age had caught him, yet he had his best statistical years in his career. Why? because as a blues his team required it of him. so he did it. all while having the attitude of any human you would ever want to work with. or go to war with.
Post a Comment
<< Home