Friday, March 04, 2005
Czeching out the Czech Playoff Matchups
Now that the Czech Extraleague's regular season is finished, let's look at the playoff matchups (Which start today!)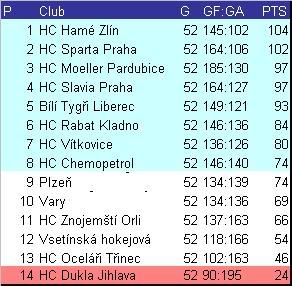 #1 Hame Zlin
(Balastik, Cajanek, Bonk, Hamrlik, Erat) vs.
#8 Litvinov
(Slegr, Skoula, Zalesak, Caloun)
This will be a battle between the playoff team with the best goaltending and defence versus the playoff team with the worst goaltending and defence.
Litvinov's high-powered offence can match up with Zlin, especially with
Jan Caloun
scoring at a goal-a-game pace. The problem for Litvinov is that they will be without
Robert Reichel
and
Martin Rucinsky
, who are both out for the season with hand and arm injuries.
Litvinov's lack of discipline and ability in their own end will cost them the series against the very mechanic Zlin squad, but they will make it interesting with their offence.
Predicition: Zlin in 6
#2 Sparta Prague
(Nedved, Hlavac, Vyborny, Melichar, Havlat, Majesky, Schnabel, Pilar) vs
#7 Vitkovice
(Varada, Malik, Kubina)
This is the most lopsided mismatch of the entire first round. How could Vitkovice compete with a Sparta team that has
8 NHLers
and other top European stars like
Jan Marek, Petr Ton
, and
Martin Chabada
?
It will be up to Vitkovice goalie
Marek Pinc
to stop the loaded Spartan squad. After years as a garden-variety goalie, Pinc bloomed this year and is my pick for
Most Valuable Goaltender
. If the clock strikes midnight and Pinc turns back into a pumpkin, this series will get ugly fast.
Prediction: Sparta in 5.#3 Pardubice
(Hejduk, Bulis, Hemsky, Dopita, Rozsival) vs. #
6 Kladno
(Hrdina, Tomas Kaberle, Huml)
At the start of the year, Pardubice was drowning in last place and
Milan Hejduk
couldn't buy a point. Kladno started strong as
Jaromir Jagr
was ripping through defenses like Hulk Hogan through a Taiwanese made t-shirt.
The tide turned quickly for both clubs as Pardubice made a sensible coaching change and Kladno lost Jagr and
Frantisek Kaberle
as they chased the money to other countries.
Pardubice has been on a roll, although they are still struggling a bit with the flu bug that caused them to postpone their final match for nearly a week. Kladno is treading water and will have a hard time matching up with a very deep Pardubice roster.
Despite the paper mismatch, Pardubice has fallen victim to surprising playoff no-shows in the past few seasons. They haven't been able to win a championship since Hasek was tending the nets for them, even with very deep rosters and a rabid fanbase cheering them on. Still, I don't think Kladno is the team that will upset them.
Predicition: Pardubice in 6
#4 Slavia Prague
(Spacek, Vasicek, Palffy, Beranek, Stumpel) vs
#5 Liberec
(Fischer, Vrbata, Nedorost, Hnilicka, Kloucek, Kotalik)
If
Jaroslav Modry
weren't out for the rest of the season with a hand injury, I'd take them easily as the upset special of Round One. As it is, these teams are almost even in all areas and this should be a great series.
Slavia, under the management and coaching of hockey fanatic
Vladimir Ruzicka
, play a very disciplined defensive system which somewhat holds their offensive players back. Despite this, Slavia still finished with the 2nd best offence in the league and their 3rd and 4th lines are superior to those of Liberec.
Liberec finished with the 3rd best defence in the league despite the early goaltending miscues of
Milan Hnilicka
(Like letting in a goal from the opposing goal line by Tomas Kaberle).
Hnilicka drastically improved in the 2nd half, but credit must be given to the mid-season additions of Modry and Fischer.
As it is, I think that Slavia is probably the strongest 4th place team I've ever seen. Their experience will probably be the one thing that will help them overcome an energetic Liberec team with big ambitions.
Prediction: Slavia in 7.
I didn't pick an upset in Round One, but I only see the Sparta/Vitkovice matchup as lopsided. The other series could very easily go the distance thanks to the additions of many NHLers to each squad.
---
Tonight, I'll be attending the
Kelowna Rockets
vs.
Vancouver Giants
game at the Pacific Coliseum. I'll get to have another closeup look at one of my favourite prospects, defenseman
Shea Weber (Nashville).
Weber, to me, was always very underappreciated and was my pick as best 'secret' prospect in the CHL. Well,
The Hockey News
' Top Prospect Issue came out last week and they rank him as their
13th best prospect in their annual Top 50
.
I guess the secret is out...