Thursday, February 03, 2005
A Big Mess in New York City
In an article posted in the
New York Daily News
, ex-Canuck captain and current Rangers captain
Mark Messier
has stated that he has no plans to retire from NHL hockey.
"Nothing has really changed because nothing has changed on (the lockout) front," Messier told the Daily News yesterday. "So for me, I'm just kind of actively waiting to see what happens like everybody else. And if and when it gets to the point where I need to make a decision, I guess I'll do that."
*sigh*

As much as I love seeing the Rangers suck the big one, I feel that the presence of Mark Messier is one of the biggest factors in their malaise the past few seasons.
If
Glen Sather
had the balls and the alcohol, I'd figure he'd love to say something like the following:
"Moose, we appreciate everything you've done for this organization, but, it's time to move on.

You are no where near the effective player you once were, and it's hurting us on the ice. Your skating was really slowed down and you have gotten to the point where you are a defensive liability on every shift. Your production continues to drop and we just can't count on you to be an effective player anymore.

And, Mark, you are just too much of a 'presence' to the rest of your team-mates. During your tenure here, you have always been 'The Leader', and your team-mates often defer to you and let you control things. The problem is that the other players simply cannot be 'themselves' with you around as such a strong presence.

Your leadership has also allowed this team to accept defeat and it shows in our work ethic. Despite the collection of star-calibre talent on this team, we haven't made the playoffs since Pauly Shore actually made a movie. We have some of the very best talents on our team, and losing is clearly unacceptable. Since you have failed to inspire the troops, we feel it is best that we bring in a new atmosphere. We want to rebuild and develop some of the youth in the organization. It's best to give ice time to a player like Jozef Balej or Dominic Moore, rather than you.
Sorry, Mess, but we're not going to sign you. We're moving in a new direction."
---
You may have heard
the story of Dan Blackburn's hybrid blocker-glove
that he will have to wear due to extensive nerve damage in his left shoulder. The nerve damage in his shoulder will never fully heal, and he got permission from the NHL to use this special glove as he cannot move his arm/hand normally.
I did a little digging and found a good picture of Blackburn using the new device.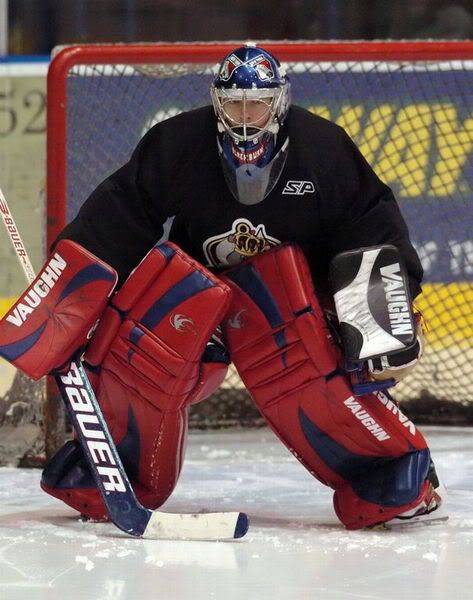 Blackburn is angling to play with the
ECHL Victoria Salmon Kings
. It will be interesting to see if he can salvage some sort of decent pro career.
Between the Rangers rushing him into NHL action far too early (and without good defensive support) and his extensive shoulder injury, the marriage between the Rangers and Dan has been a disaster from the start. Good thing the Rangers have Al Montoya waiting in the wings.
---
Going back to
my earlier post on the infamous Hockey Rumours Blog
,
Erik at Off-Wing does a little investigation of his own
and finds out more about '
Eklund'
. Eric had a phone conversation with this d00d, after which he seemed quite suspicious of 'Eklund'.
Yet, if you read the
Hockey Rumors Blog
, you find a small band of lemmings that cling to every word he says like pineapple on Hawaiian pizza. It doesn't matter if 'Eklund' is pulling ideas out of his head (or other places), he gives his parishioners some shining ray of hope that the NHL will, indeed, have a season.
It's like a really sad cult, complete with 'revenue' going into buying 'Eklund' some new XBox games.