Saturday, December 04, 2004
Sparta Prague Online Jersey Auction (Czech Extra League)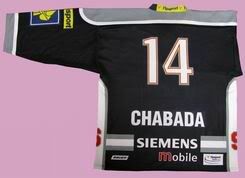 I know there have been some users looking for
Czech Extra League jerseys
(I get emails or see forum posts often enough asking for help). Problem is, most teams don't offer sales on the web.
Now,
Sparta Prague
is in the process of holding an online auction for some game-worn jerseys from last season if you are so interested.
ESports.cz
will also be doing auctions for other Czech League teams throughout the season, in case you are looking for another particular player.
The English-Language bidding rules:
http://aukce.esports.cz/rules.asp?klub=PLZ3
and the actual online auction itself:

http://aukce.esports.cz/aukce.asp?klub=SPA1
Some of the names available (some top prospects and NHLers):
Marek Schwarz
Lubos Bartecko
Jan Hlavac
Rostislav Olesz
Michal Sivek
Jakub Sindel
Robert Schabel
If you want to know about current exchange rates,
http://oanda.com/convert/classic
provides a good conversion tool.
If you need any assistance with the bidding process, feel free to email me. The auction ends
December 14th
.